Silly 50th Birthday Gag Gifts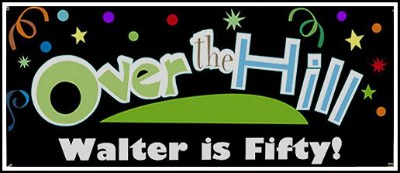 50th gifts
50th birthday gag gifts are supposed to be silly and get attention! Here's what makes gag gifts different from regular gifts. The amount of money you spend doesn't matter. Cheap is chic! Nervous laughter and sweaty palms are common while opening!

The stupider the gift . . . the more intelligent the giver!

Jokes about getting old are totally acceptable.

The gift's value is its humor; it may never be used after the party!

Creativity is vital. Like answering the question: "How old are you?"

While You Were Napping Message Pads would be perfect for the executive!
---

50th birthday gag gift hat
Going to a 50th birthday party is quite an experience. It's similar to "roasting a celebrity".


Putting the birthday boy or birthday girl on display in a silly hat is required for any 50th birthday party!



Here are a few more hats to add more life to the party!
---
50th birthday gag gifts must include an equally stupid shirt.
---
50th birthday party supplies
Any party starts with a banner! You can make a really great gag gifts for 50th birthday by personalizing the banner with an old picture.
You can use either a dorky high school picture or even a baby picture. Anything that will show a contrast to their new age of 50! Then, add your own creative text! Here are a few banners:

---

When you think of 50th parties,
When you think of 50th parties, the theme has to be black!

You'll need crepe paper and balloons to decorate, a silly button for the guest of honor, and some relighting candles. All are great additions to 50th birthday gag gifts.

Popular Party in a Bag - 50th Birthday has everything you need!
---
Keep the fun going
with the Over the Hill Coffin Gift Collection. This includes:

Over the Hill Anti Aging Spray, Over the Hill Gray Rinsing Soap, Over the Hill Candy Filled Bottle, Over the Hill Coffee Mug, Over the Hill Prune Juice, Over the Hill Birthday Button, Coffin Gift Box.


---
More ideas for 50th birthday gag gifts.
I just love Retro Candy Gifts! Giving it brings me right back to my childhood! I used to love walking to the store to buy a bag of candy.
This will bring back great memories for the candy lover! My favorite candy was black cows . . . that is until I got it caught in my braces and had to go the dentist!
Some of the best 50th birthday gag gifts can be at least partially homemade. Sprinkle in some good 50th birthday quotes and 50th birthday slogans (see below) and you're set!
---
Homemade Candy Memories:
If you'd rather make a 50th birthday gag gifts, here are some ideas: Make a candy vest, candy hat, or candy cape. Buy treats they loved as a kid.
Attach the candy all over a hat, vest or cape with Velcro. Have them wear the creation all during the party. Add a sign that says: Still sweet and popular at 50! Post it on Facebook later!
---

Personalize a bottle of wine
with their picture on the label and a 50th birthday slogan like:
Aged to perfection (aka: not yet vinegar!) or
Turning to vinegar . . . drink quickly! or
Contents in perfect condition . . . packaging slightly worn!
---
Movie Time capsule:
fill it with DVDs of popular movies like: American Graffiti, The God Father, Network, Rocky, Close Encounters, Blazing Saddles, Young Frankenstein, and The Sting.

Add some candy and popcorn.
Make a homemade card with the line . . . "Like a great movie - you only get better with time". Hilarious gag gifts definitely add fun to a party.
50th birthday quotes and 50th birthday slogans
If you'd like to make 50th birthday gag gifts - a homemade 50th birthday card, or a customized sign check out the quotes below.
T.S. Eliot: "The years between fifty and seventy are the hardest. You are always being asked to do more, and you are not yet decrepit enough to turn them down."

Lady Nancy Astor: "I refuse to admit I'm more than fifty-two, even if that does make my sons illegitimate."

Wendy Cope: "I'm aiming by the time I'm fifty to stop being an adolescent."

Anita Brookner: "She was a handsome woman of forty-five and would remain so for many years."

Joan Rivers: "Looking fifty is great if you're sixty." ~

50th birthday slogans:

Chili Davis: "Growing old is mandatory; growing up is optional."

Sir Norman Wisdom "As you get older three things happen. The first is your memory goes, and I can't remember the other two."

Billie Burke: "Age is something that doesn't matter, unless you are a cheese."

R. C. Ferguson: "A man is getting old when he walks around a puddle instead of through it."

Bob Hope: "You know you are getting old when the candles cost more than the cake."

Lucille Ball: "The secret of staying young is to live honestly, eat slowly, and lie about your age."

This is my favorite . . . John P. Grier "You are only young once, but you can be immature for a lifetime." Let's hope so!
Here are some great 50th birthday cards you can purchase - many can be personalized.
---
---
eNewsletter
Don't miss a thing! Sign up for my special eNewsletter, "Gift of the Week". I'll share my latest finds and deals with you. Tell your friends too!

---
Free Birthday eCards
To top off the gift, here are some wonderful Happy Birthday eCards that you will have fun creating and giving. Short on time or money? No problem, check out these free birthday eCards.
---