Unique Gift Basket Ideas





The most unique gift basket ideas are themed baskets.

In fact, you can create an entire "birthday weekend" around one.

Involve your family and friends to plan a wonderful time.

Consider what hobbies the guest of honor has.

What make them feel happy?

Now . . . go shopping!



---
Appreciation Gift Basket
Give her some relaxation with an appreciation gift basket.

Here are some wonderfully unique basket ideas to let her know how much you care.


Spa baskets are a sweet way to show her how much you care.

These baskets gives her the opportunity to get pampered!






You'll have lots of different choices with these birthday gifts. In some you'll find aromatherapy products; others have vanilla or lavender, still other baskets feature only natural products.
Along with this wonderful gift, make sure you also give her breakfast in bed and dinner out!
---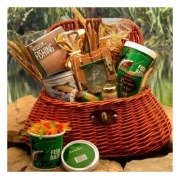 Gift Basket - Men Birthday Surprise

If he loves outdoor sports like golfing, fishing, or riding motorcycles here are some fun gift basket ideas.
What I really like about coming up with unique gift ideas is that you can tuck in some special event tickets or reservations inside the basket.
Plan a fun weekend trip around the same theme. Maybe there is a special golf course he's been wanting to play.
Has he been wanting to take a drive up the coast? How about renting a rustic cabin next to a stream. Really create a great birthday weekend for him. Center the idea around one of these best birthday gift baskets.
Fun Basket Ideas For Gardeners

Are they stuck in a office all week yearning for the outdoors? Consider fun gift baskets made up of gardening supplies. This is a good idea if someone has been wanting to get into gardening too.
Set up a family BBQ party while you're at it.

---
More Fun Gift Baskets

Sometimes unique gift basket ideas are what will make the birthday celebration much more special.
Check these baskets (or non-baskets) out. I think they're more than a little different.
It's gifts like these that will get the attention of the birthday boy or birthday girl!

---
---
eNewsletter
Don't miss a thing! Sign up for my special eNewsletter, "Gift of the Week". I'll share my latest finds and deals with you. Tell your friends too!

---
Free Birthday eCards
To top off the gift, here are some wonderful Happy Birthday eCards that you will have fun creating and giving. Short on time or money? No problem, check out these free birthday eCards.
---